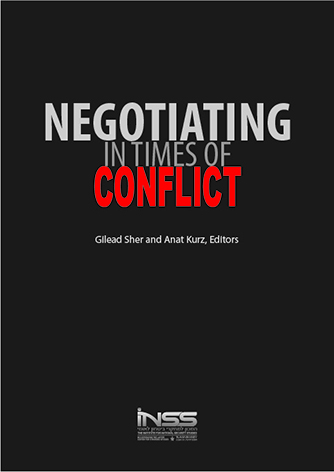 Edited by Gilead Sher and Anat Kurz, this book contains a collection of essays by leading conflict resolution analysts and practitioners from across the globe. It aims to serve as a resource for policymakers, negotiators, and mediators who are striving to resolve intractable conflicts that account for widespread casualties and immeasurable suffering, and that challenge governments with acute policy and security dilemmas.
When blood is spilled, people are filled with vengeance and anger, along with despair, bereavement, mistrust, and frustration. This moment is a golden opportunity for hate-driven extremists, yet even for the non-radical person, emotions run high and harsh rhetoric tends to eclipse hope and calls for a diplomatic resolution. However, we suggest that there might be ways to resolve, or at least to mitigate, even complex, violent, and protracted conflicts between communities and nations, the Israeli-Palestinian conflict among them. The articles collected here explore this potential for conflict resolution.
When we first decided to publish this volume, we contacted prominent researchers and practitioners from around the globe with specializations in a variety of different conflict arenas. Interestingly, several dominant themes and recommendations for negotiating in times of conflict recurred in many papers. Perhaps this is not surprising, as in attempts to manage conflicts throughout history and throughout the world, the same mistakes have been made time and again – mistakes that too often result in futile efforts, widespread fatalities, and horrendous suffering. In light of this, the importance of taking on board the experiences of conflict resolution analysts and practitioners cannot be underestimated. We hope that the lessons presented in this publication provide valuable material for policymakers, mediators, and negotiators who strive to avoid pitfalls in their quest for peace and aim to create a tolerable if not promising future for those embroiled in conflict and war.
The articles herein focus on elements and policies equipped to facilitate alleviation of tension and contribute to peacemaking efforts within the context of negotiation strategy. The lessons and policy recommendations for the most part were based on specific cases that were then translated into general terms. Much emphasis falls on inclusiveness as a key negotiating strategy, the potentially supportive role of international actors, and the psychological dimension of conflicts and conflict resolution. Additional lessons concern the challenge of paving the way for negotiations, where rival parties face a deadlock. Many of the articles touch upon several of these aspects, and together reflect with three principal themes: general approaches to negotiations, case studies, and the Israeli-Palestinian conflict.
The section dedicated to the Israeli-Palestinian conflict reflects the particular interest at INSS and its Center for Applied Negotiations (CAN) in enriching the discourse on managing and advancing a resolution of this complex issue and on guiding associated peace-oriented policy. In light of this underlying logic, general conclusions that are specifically relevant toIsraeli-Palestinian peacemaking efforts are underlined in the context of this introductory, integrative essay.
Contents
Publication Series:
Books